Karnataka
crossed 50,000 Covid-19 infections and logged more than 1,000 deaths even as the national caseload exceeded one million and the deaths due to the disease crossed 25,000.
The number of Covid-19 deaths in the state quadrupled from just 246 at June-end to touch 1,032 on Thursday, which saw a single-day record of 104 deaths; 70 of these were in Bengaluru alone. Another daily record was broken with 4,169 cases on Thursday, taking the total number to 51,422. Of these, 36,180 were reported in July at a rate of 2,261 cases a day.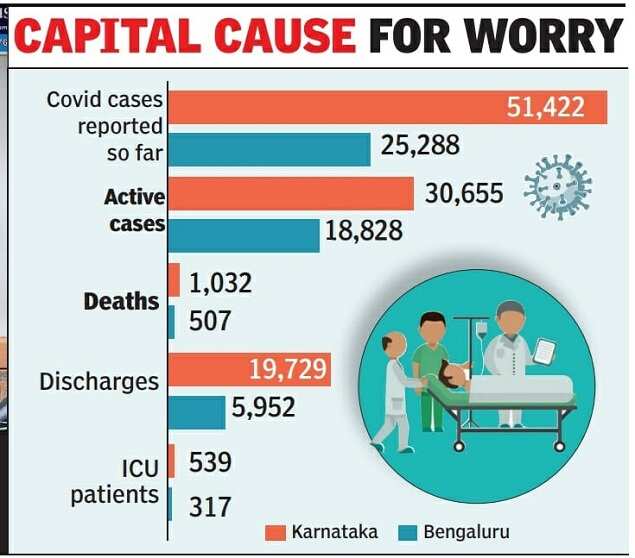 The number of cases in Bengaluru stood at 25,288, of which 20,733 were added in July, including 2,344 on Thursday. Comparatively, Chennai reported 1,157 cases and 23 deaths; Mumbai 1,476 and 56 and Delhi reported 1,652 and 58.
The number of active cases in Karnataka and Bengaluru stood at 30,655 and 18,828, while the total number of recoveries were 19,729 and 5,952 respectively. Karnataka, experts say, must shift its focus on preventing deaths if it wants to emerge from the pandemic with a high recovery rate given that the number of cases could rise.
Dr CN Manjunath, member, Karnataka Covid-19 taskforce, said: "The number of cases is bound to increase for two reasons: the anticipated peak and number of tests has increased. We're now focussed on reducing deaths."
From testing about 10,900 samples a day on an average in June, the state has been testing more than 17,000 a day in July on an average. On Thursday, the state tested 23,451 samples, 19,347 of which returned negative.
Most deaths in the state are still because of comorbidities like SARI and ILI, while clinical experts point to other effects of the virus that are affecting people's hearts and lungs. As on Thursday, 539 patients, including 317 in Bengaluru were in the ICU.
Manjunath said: "It is important we coordinate and ensure that critical and sick people get hospital beds. Our treatment strategy will also change as we learn new things about the virus. People whose health is not critical occupying beds is hurting patients who really need them".
Dr C Nagaraj, director, RGCID, and member, state Covid-19 death audit committee, said: "There's a need for more testing and the focus must also be on reducing the time taken to give the results. Besides, in 50% of the deaths audited by us and treated at our hospital, we've found that the patient spent only about a day or less than 24 hours at a hospital, leaving doctors with very little time to save them. And most deaths are severe SARI cases."
Among the 10,00,202 cases reported nationally, 6.3 lakh patients have been treated. The tally surged following a record spike of 36,429 cases.